2020/2021 SEASON CLASSES START THE WEEK OF AUGUST 31 – SEPTEMBER 4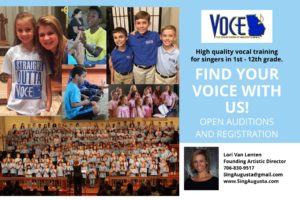 "Audition" can be a very scary word, but it doesn't have to be a scary experience. The audition process for VOCE is simple, but important. Singers interested in joining PRIMO or the Advanced Ensemble will need to demonstrate the ability to consistently match pitch and have a strong concept of rhythm. Here are a few things that we will go through with each singer.
Be ready to sing a little of your FAVORITE song. You don't need any accompaniment or sheet music.
I will make some funny sounds and ask you to repeat them.
We will listen to some sounds on the piano and talk about them.
I will go through some vocal exercises with you to see what your voice does as you sing higher and lower.
We will do some rhythm activities.
I will see how much you know about reading music. If you can't read music yet

THAT'S OK

! It's my job to teach you!
What is the Audition Process?
Show up at one of our Open Call Audition times with the Singer and a Guardian.
Fill out the Audition Registration Form providing us with your contact information. We will enter that into our communication database used ONLY to contact anyone who auditions for the Season or Semester. You will receive a confirmation email with the information you provided.
After auditions you will hear from VOCE through the email address you provided on the forms no matter what the audition result. If you do not hear from us PLEASE contact the office! We don't want anyone to fall through the cyber cracks. If your singer is accepted you will receive an invitation to enroll. Once you have accepted the invitation we will walk you through the enrollment process.
Audition Registration Form for 2020/2021
Check out our COVID-19 FAQ sheet for answers to some common questions!
If you have a rising Kinder through 3rd grader you are interested in registering for our non-auditioned group Young Musicians, please fill out this Young Musician Registration Form.
(706) 830-9517 singaugusta@gmail.com www.facebook.com/VOCEaugusta