3rd-6th PRIMO – Beginning/Intermediate Group Voice
Spring Semester Begins the week of January 8, 2024! Enrollment is open through January 26th!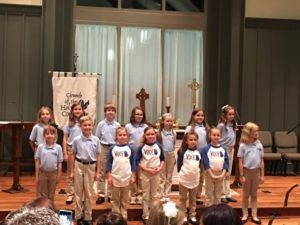 PRIMO – Beginning/Intermediate Group Voice Lessons
PRIMO is group voice lesson class for 3rd through 6th grade singers. Many of our singers have had performance experience and some musical training, but many also join this class without having and musical or performance experience. This class focuses on reading sheet music using Solfege (Do, Re, Mi etc.), the fundamentals of healthy singing, ear training, and vocal performance skill that are appropriate for their age and development.
These singers will learn the basics of harmony and excellence in solo and ensemble singing while experiencing music from all genres including folk, classical, musical theatre, multi cultural and more. These students are invited to participate in an annual Elementary Honor Choir, hosted by VOCE, with 200 area 4th and 5th graders come together to work with prominent clinicians from all over the United States. The concert performed by this group also serves as a benefit concert for a local charitable organization, and as of 2020 VOCE has raised over $10,000 through this event.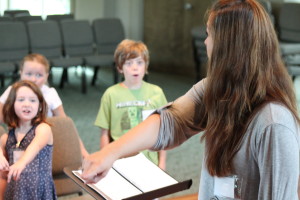 All prospective students need to meet with Lori for a vocal evaluation prior to beginning class. Dates are planned for Open House Enrollment where this can happen, or you can schedule an appointment. This is NOT an audition into the program or class. Lori maintains that all children can be taught to sing, so this evluation's purpose is to give her the opportunity to plan for and cater the lessons to the specific needs of the children in the class.
Parents can call the office to set up a time to meet with Lori if the scheduled enrollment events don't work for your schedule. All singers and a parent will be asked to attend one of the open enrollment events, or schedule a time to complete all paperwork required for the start of the season.
Class Details
Where: 118 N. Belair Rd Suite 3 (behind UBORA Coffee at N. Belair and Columbia Rd)
When: Mondays from 5:30-6:30PM OR the HomeSchool session is Mondays 2:00-2:45pm August through May (Class size is capped at 30 singers)
Costs include: Annual Enrollment fee to include a t-shirt and materials fees, and tuition of $85.00 per month. Parent are offered options for tuition including a monthly auto draft (for full season contracts), per semester payments, or discounted annual tuition. We also offer sibling discounts. In order to hold your singer's spot in this class, parents must fill out the Enrollment Form and complete the registration payment using our secure payment server.
Performance Attire: Students have a $15 uniform rental fee for their performance polo shirt. This will guarantee that if your singer grows throughout the season they will be able to trade in their polo for a larger size. Parents need to provide black pants, black shoes, and a black belt.
Open House & Paperwork Dates: Tuesday August 1, 1:00pm-5:00pm, Wednesday August 2, 1:00pm – 7:00pm OR call the office for an appointment with parent and singer.
Performance Requirements: Fall Concert (on a Tuesday evening in combination with all VOCE classes), Holiday Tea (during regular class time), Nursing Home performance (during regular class time), Elementary Honor Choir Performance (February TBD) and Spring Concert (on a Tuesday evening in combination with all VOCE classes). There may be other public performance events where PRIMO will be invited to perform. A season calendar is provided.
Parent/Guardians must complete this form to begin the enrollment process.
Payments must be made in the studio for enrollment through August 25th