VOCE's 4th Annual CSRA Elementary Honor Choir February 4, 2020
VOCE believes strongly that young people can do AMAZING things if we show them they can, and offer them the opportunity to try. In keeping with that belief, VOCE has started an Annual Elementary School Honor Choir for 4th and 5th grade singers. The 2018/2019 event saw 215 participating singers with an audience of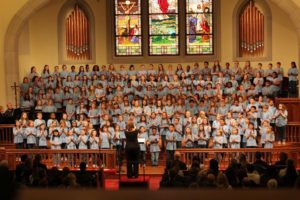 over 550 people. This event will offer young people from all over the CSRA the opportunity to participate in a higher level performance group, AND give them a chance to serve as leaders in their community. Their concert will be a benefit concert. The concert has provided almost $10, 000 total in support of The Children's Medical Center, The Charlie Norwood Fisher House, and the Ronald McDonald House of Augusta. There is not a ticket cost to attend our program, rather, we will collect a love offering during the concert. ALL proceeds from this event will go to the selected beneficiary, to be announced mid-fall.
What is the schedule for the day?
A detailed schedule will be sent to the registering directors, but check-in on the date of the event will start at 9:00am. They rehearse all day with breaks for snacks, lunch, a snack supper, and a brain break. Concert doors will open at 6:15pm and the concert will start at 6:30pm.
How do we register?
Each registering organization can send up to 22 singers to this event. The best way to participate is to get your Music Teacher or Choir Director on board! All of the registration documents are on this page, so participation is EASY! Please send in one check to cover the registration fees of all participants in your group.
What if my child is Home Schooled, or our teacher can't bring them?
Don't worry! You aren't REQUIRED to register with a sponsored group. Parents can register their own children for the event and serve as their chaperone, however, they can only do this if their school or church isn't registering a group, or if they are a registered home school student. A school excuse will be provided to all students.
We live in South Carolina. Can we still participate?
OF COURSE! If you can get here, we would love to have you!
More questions? Please feel free to contact us!
Directors can click on the links below for the forms needed to participate.
REGISTRATION DEADLINE DECEMBER 1st, 2019.
VOCE Honor Choir Registration 2020