2022/2023 SEASON CLASSES START THE WEEK OF AUGUST 8TH
2022-2023 Advanced Voices Enrollment Form – Parent/Guardian must begin the enrollment process by filling out this google form.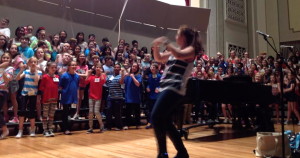 Advanced Voices – Group Voice Lessons
AV is VOCE's premier group. This class is made up of singers from 5th – 12th grade. Singers are provided with Voice lesson style classes each week in an ensemble setting. Our focus is on healthy vocal techniques for solo and ensemble singing. These students are provided with the opportunity to expand their range and abilities as vocalists in all genres of music, with the comfort and safety of a group of voices, as well as the opportunity to observe and participate in individualized vocal instruction during class. This group is frequently contacted to perform solos and ensemble pieces throughout the community, and members are offered the opportunity to travel on educational and performance tours throughout the United States and abroad.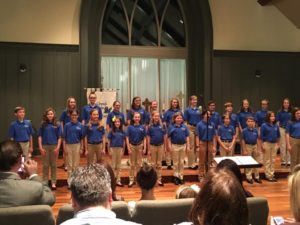 Classes include
Vocal warm ups designed to strengthen the solo voice and balance/blending techniques for ensemble singing
Instruction on breath support
Basic understanding of Vocal Science and how your voice works as you grow
Training in all genres of music including Musical Theatre
Fundamentals for All-State Audition preparation
Access to the program Sight Reading factory and regular practice at sight reading
Singers will be moved to all voice parts rather than being "parked" in a section. This provides them the opportunity to stretch and expand their vocal range.
Access to private vocal coaching for audition preparation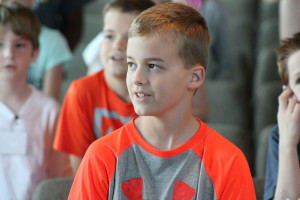 Class Details
Where: 118 N. Belair Rd Suite 3 (behind Gary's Hamburgers at N. Belair and Columbia Rd
When: Tuesdays or Thursdays from 4:30-6:00PM (15 students required to open Thursday section)
Costs include: Annual Enrollment fee to include a t-shirt and materials fee, and tuition of $85.00 per month. Parent are offered options for tuition including a monthly auto draft (for full season contracts), per semester payments, or discounted annual tuition. We also offer sibling discounts.
Performance Attire: Students have a $65 uniform rental fee for their formal uniform and casual performance polo shirt. This will guarantee that if your singer grows throughout the season they will be able to trade in any part of their uniform for a larger size without an extra cost. Parents need to provide black pants, black shoes, and a black belt for the casual uniform.
Casual Uniform: VOCE Polo (provided by VOCE), with parent provided black pants, black shoes, black belt
Ladies' Formal Uniform (provided by VOCE): Tea length, A-Line wrap around skirt in cobalt blue with a short flutter-sleeve, crew neck black dress top and yellow beads. Parents provide black flat shoes.
Men's Formal Uniform (Provided by VOCE): White performance dress shirt with a yellow bow tie, with parent provided black dress pants, black shoes and black belt.
Open House & Paperwork Dates: Monday August 1, 3:00pm-7:00pm, Tuesday August 2, 3:00pm – 7:00pm & Saturday August 6, 10:00am-2:00pm OR call the office for an appointment with parent and singer.
Performance Requirements: Fall Concert (on a Tuesday evening in combination with all VOCE classes), Holiday Tea (during regular class time), Nursing Home performance (during regular class time), Elementary Honor Choir Featured Choir Performance (February) and Spring Concert (on a Tuesday evening in combination with all VOCE classes). AE is also invited to sing at a number of events throughout the year. A full season calendar will be available at the start of the season.
To watch our singers' progress or find out about concerts and auditions please keep in touch with us!
(706) 830-9517 [email protected] www.facebook.com/VOCEaugusta